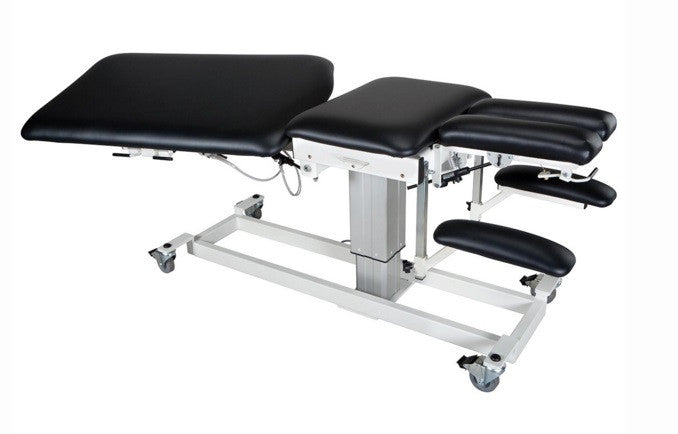 ---
click or tap image to zoom-in
Armedica AM-SP 575 Six-Piece Hi Low Mobilization Table
Armedica AM-SP 575
Top Section: Six Piece, Three-Piece Head
Width: 25"
Length: 77"
Head Section: Three Section 17" x 13"
Raises 25 Degrees, Lowers 20 Degrees
Center Section: 17-1/2" x 

25"
Foot Section: 41

" x 25" Raises 20 degrees, lowers 20 degrees, side bends 15 degrees, rotates 15 degrees.
Armrest:
12-1/2" x 5-1/2" Adjustable.
Capacity (lbs): 300
The unique design of the AM-SP Series brings the future to you today! Based on a single pedestal approach, the AM-SP Series offers solid stability and loads of leg room and maneuverability for the clinician along with luxurious comfort for the patient. The single pedestal is equipped with our one-step caster system and footswitch at no additional cost and offers a full 27" width top along with a 400 lb. lifting capacity. Because of its unique design, the AM-SP Series operates in a range of 24" from the floor to a maximum height of 35 1/2". It also elevates with no end shift, so it can be used in a smaller area, saving precious space in your office or treatment room.
All the AM-SP Series Treatment Tables include the following features:
34 oz. Heavy-duty handcrafted vinyl upholstery with Permablock3® bacterial protection.
1-1/2" Firm density foam tops.
Radiused, seamless corners on upholstered components.

Four heavy duty 3.5" total lock ball bearing casters

Pivoting joints have hardened steel shoulder bolts with locking nuts to ensure years of trouble-free operation.
Footswitch control.
300 lb. Lifting weight capacity to accommodate the larger patient.
110 volts, 60 Hz motor. (220 volts, 50 Hz available on special order).
Returned Goods Policy:
Authorization
1. Please check your measurements carefully.  Also, take into consideration the electrical  needs of any equipment you are installing.  We accept returns on the basis of manufacturing defects only - which is determined by Armedica Mfg. Corp. and Foundations.  Some products are labeled as "No returns on this item" in which case we will not accept returns on those products.  (Damaged products should not be accepted from the freight carrier.)
2. No returns are accepted after 30 days from shipment date, and should be returned only to the manufacturer.  Contact us for location information.
3. A return goods authorization (RGA) number must be obtained from customer service or a sales representative for any and all returns.
4. All returns are subject to the manufacturer's returned goods policy and a minimum 15% restocking charge, or the manufacturer's restocking fee which may be as much as 30%.
5. Products must be in new, unused condition, not tampered with, in original packaging and returned at the customer's expense.
6. Custom orders are non-refundable and non-returnable.
7. Shipping is non-refundable.

Shipping Errors
Items shipped to you in error may be returned provided:
1. Customer service is notified within (10) days of receipt of merchandise
2. Returns must be received within twenty-one (21) days of initial shipment and products must be in original, unopened, undamaged cases, suitable for immediate resale.
---
---
More from this collection